Roots Ireland
As an alternative option to engaging our professional research service, Limerick Genealogy's unique database of over one million genealogical records for Limerick City and County, which has been developed by local genealogists, is searchable online on a subscription basis at RootsIreland.ie, for those who wish to carry out their own searches for family records.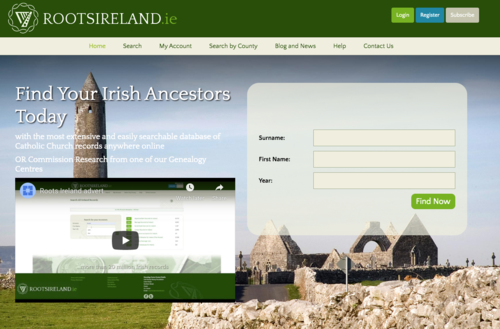 User-friendly and Comprehensive Database
Through this online user-friendly and comprehensive database you can search for your ancestors in fully transcribed church and civil records, 1901 Census returns, property valuation records and various ancillary sources for Limerick City and County. Over one million transcribed records of births, baptisms, marriages, deaths, burials, census returns and census substitutes for Limerick City and County are currently online and we aim to add more records in the coming year.
A full and detailed list of the records of Limerick that are currently searchable can be viewed here. This database is constantly developing and improving; we welcome user feedback and are happy to correct any transcriptions errors found for the benefit of all users.
All-Ireland initiative
RootsIreland is an all-Ireland initiative developed by the not-for-profit Irish organisation, the Irish Family History Foundation. The aim of the initiative is to create a countrywide searchable database of genealogical records and to date more than 20 million Irish genealogical records are currently searchable on this database, with more being added all the time.
We would like to note however that this facility is not a substitute for research commissioned through our experienced and trained Limerick-based service, with researchers who are familiar with the geography and history of Limerick and aware of research considerations and possible limitations of records. In a search of the online database you may find that, based on the information available to you, there are too many possibilities and in this situation we would recommend that you contact us for advice.